Regular price
Sale price
$45.00 USD
Unit price
per
Sale
Sold out
This mysterious and intrigue scent is the true merging of the masculine and feminine. Our complex and captivating blend of Bergamot, Red Raspberry, Amber, Red Rose, Leather, and Oud notes continue to evolve with wear. TAKE NOTE! You will get constant compliments and a delightful surprise with every whiff!!!
SCENT TYPE: Woody  • Aromatic  • Amber • Complex 
PERFUMER: Octavia Morgan 
TOP NOTES: Bergamot  •  Lemon Zest  • Red Raspberry  •  Cassis
HEART NOTES: Red Rose  •  Vanilla  • Oud  •  Amber  •  Sandalwood
BASE NOTES: Black Pepper  •  Musk
EDP %: Usually last 3-4 hours on skin 
NO PHTHALATES • NO PARABENS • NON TOXIC • VEGAN-FRIENDLY • CRUELTY-FREE 
Notes

TOP NOTES: Bergamot • Lemon Zest • Red Raspberry • Cassis HEART NOTES: Red Rose • Vanilla • Oud • Amber • Sandalwood BASE NOTES: Black Pepper • Musk
Ingredients

Natural Fragrance (Botanical)
Synthetic Fragrance
Naturally-Derived Fragrance (Botanical)

Ethylene brassylate, 1-(1,2,3,4,5,6,7,8-Octahydro- 2,3,8,8-tetramethyl-2- naphthalenyl)ethenone, d-Limonene, 2-Ethyl-4-(2,2,3-trimethyl-3- cyclopenten-1-yl)-2-buten-1-ol, 2-Isobutyl-4-methyltetrahydro-2H- pyran-4-ol, 4-(p-Hydroxyphenyl)-2-butanone, beta-Ionone, 4-Methyl-3-decen-5-ol, Linalyl acetate, Linalool, Vanillin, p-Mentha-1,4-diene, Citral, delta-3-Carene, Myrcene, Denatured Ethyl Alcohol, Triethyl Citrate, Deionized Water


Share
View full details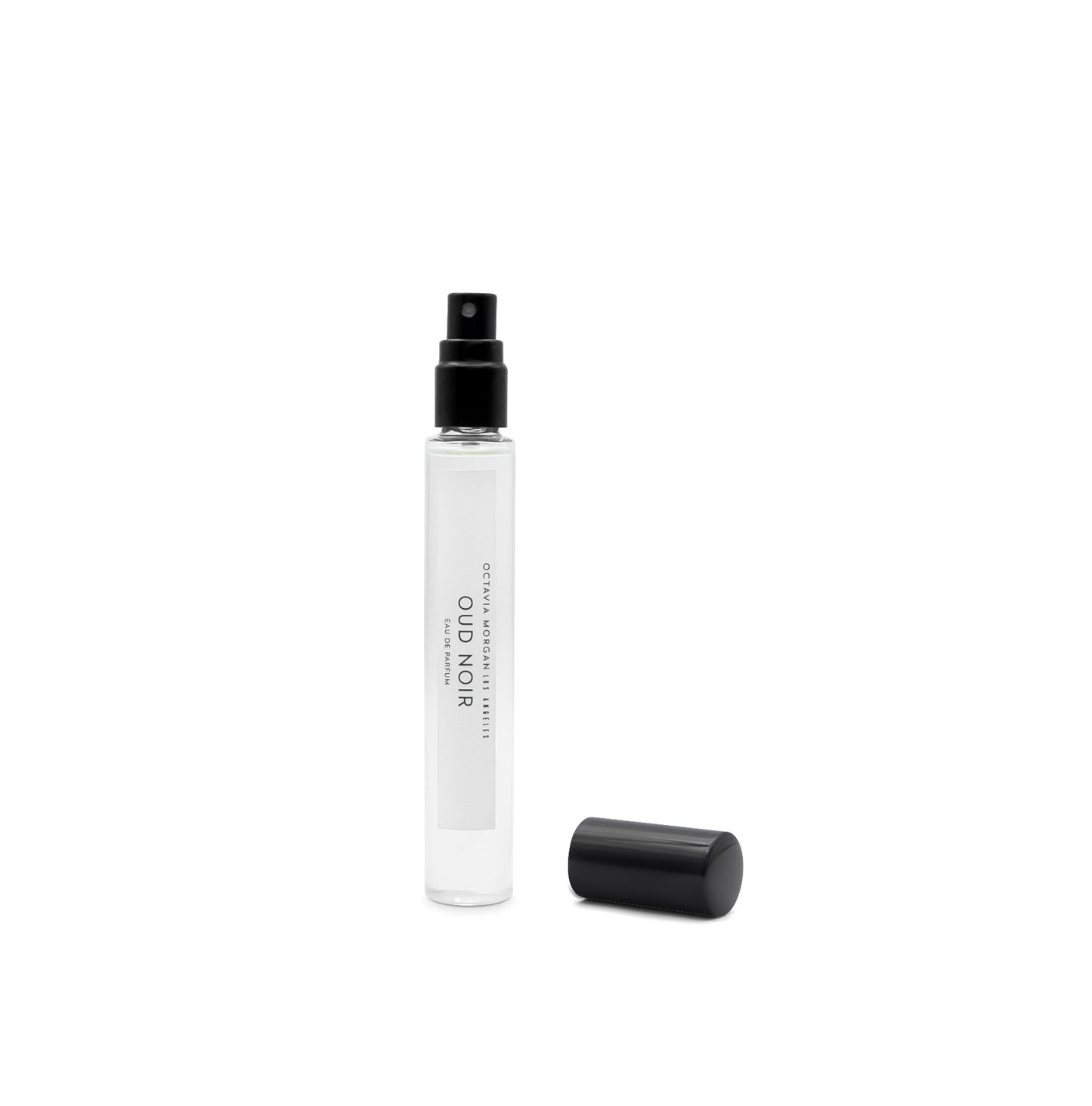 My scent.
Finally found my scent. The smell I want to leave with people after a hug. Oud Noir is so vibrant and delicious. Can't get enough.
Amazing
Was blown away by the scents, natural, clean and long lasting! New favorite!!!
Amazing Investment
I smell better than I have with your fragrances, i'll keep making this amazing investment into this beautiful product
Love!Love!
Love! Loves all the scents!
I love it!
The Oud Noir has the richest most exotic and distinct scent. It smells so good, I just want everyone to experience it!! It's a definite for me! Oh, and I must share that the packaging was exquisite and added to the experience as
well. Just wonderful all around!